Situation
The valley of the Galeizon lies between two Cévennes massifs : the mountain of Mortissou and the mountain of La Vieille Morte.

The accommodation is located on the shady slope of the Mourtissou massif, in a small 4-house hamlet in the heart of a chestnut grove.

There is maximum sunshine.

To refresh yourselves you can follow a small path down the hillside to meadows beside a pool of vivifying water.

The amateurs of trout-fishing can tease the speckles ones in the Galeizon.

Walkers and hikers will find many paths to go up and down dales.


The house is situated on the voie communale N°1

Access from the road is by stairs and there is a small shady area in front of the entry.




Access coming from Nîmes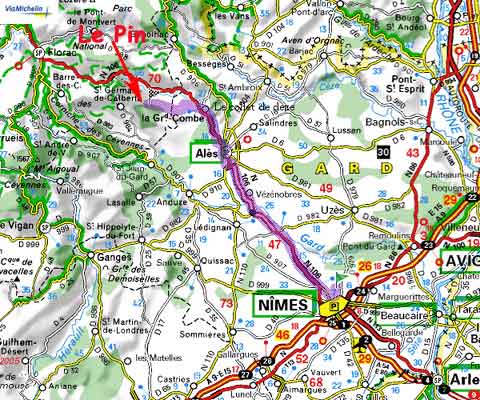 Take the main N.106 road Nîmes-Florac.
At the village of Le Collet de Dèze take the direction of St Martin de Boubaux.
From the Col de Pendedis continue towards St Martin de Boubaux.
The house, "Le Pin", is 1.3km from Pendedis.